Home
Latest Hot News!
GISELA published a White Paper on Lessons Learned

The GISELA Science Gateway "lands" on social networks
Argentina signs the e-Infrastructure sustainability agreement!
GISELA 5th Bulletin: Good Bye GISELA
OurGrid 4.3.1 has just been released!
GISELA 4th Bulletin: The GISELA-CHAIN Confenece
Costa Rica also signs the Mexico Declaration
GISELA Latin American Institutions contributed to it! (Higgs boson)
LA commits to the sustainability of the e-Infrastructure (The Mexico Declaration)
---

Making e-Infrastructures Sustainable
The Joint GISELA-CHAIN Conference has been held in Mexico City, Mexico from June 27th to 29th 2012. It was hosted by the Universidad Nacional Autonoma de México (UNAM) and supported by RedCLARA  and CUDI. Its aim was to be both an Open Conference and a User Forum and its Scientific Programme is conceived to reach two main objectives:
- Present outstanding results obtained by Scientific Communities using e-Infrastructures with focus on the advent of the new VRC-driven Science Gateway (SG) and their first outcomes;
- Under the auspices of RedCLARA, discuss policies and plans for the long-term sustainability of SG-based Advanced Computing Services, with special emphasis on Latin America.
It has been a great success with 83 on site attendees and an average of 122 people following the Conference online
by means of UNAM Webcast.
Click here to go directly to the agenda with all the contributions.
The Proceedings of the Conference will be published soon by COMETA (Italy)
---
The GISELA Project (Grid Initiatives for e-Science virtual communities in Europe and Latin America) aims at:
Implementing the Latin American Grid Initiative (LGI) sustainability model rooted on National Grid Initiatives (NGI) or Equivalent Domestic Grid Structures (EDGS), in association with CLARA , the Latin American NRENs and collaborating with the European Grid Initiative (EGI)
Providing Virtual Research Communities (VRCs) with the e-Infrastructure and Application-related Services required to improve the effectiveness of their research.
The Project encompasses 19 Partners from 15 countries in Europe and Latin America.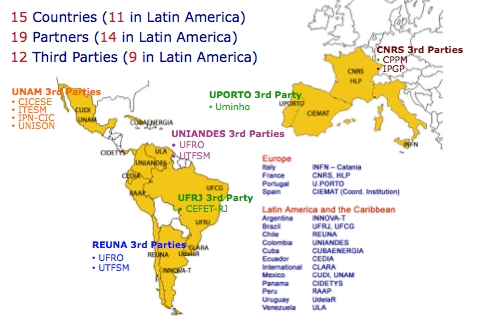 Edited by Herbert Hoeger on 12/09/2012