The quality of management of the Project, to a large extent, conditions its success. The scale of the GISELA Consortium calls for very well structured management, able to accommodate all usual administrative, financial and technical tasks, albeit ensuring the proper environment to deliver production level services to various kinds of users of the e-Infrastructure. On the other hand, the Management Activity takes advantage of the 2-year EELA-2 experience, with the same coordinating Institution: CIEMAT, the same Project Office run by HLP Développement SA (HLP) and moreover with an established modus operandi based on existing well-defined administrative procedures and policies.
The "Administrative and Technical Management" Work Package (WP1) is subdivided into three (3) tasks:

TWP1.1: Administrative and Technical Management (led by CIEMAT)
The major concern of TWP1.1 is to offer an administrative environment providing all the necessary services to the Consortium members, making full use of the Website as being the main repository for all documents, e.g. meeting information, workshop, conference announcements, distribution lists, project bulletins, etc.
The Technical management of GISELA has the entire responsibility of the setting up, development and successful conclusion of all technical activities, in agreement with the objectives of the Project

TWP1.2: Long-term Sustainability - Policy and International Cooperation (led by INFN)
This task is responsible for the definition of the strategies and road-maps for the long-term sustainability of the e-Infrastructure. For this purpose liaisons with related projects have been established and fomented.


TWP1.3: Transition to the CLARA Administrative and Technical Management (led by CLARA)
The job of TWP1.3 will be to work out and implement the transition plan to handover the operation of the e-Infrastructure and the User support to CLARA. This will imply the CLARA team in GISELA to chronologically:
Participate in WP1, WP2, WP3 and WP4 activities to become familiar with all aspects of those tasks;
Work out the details of the CLARA Business plan and sustainability model based on the Life Cycle Product Management (LCPM), of CLARA new Service Structure strategy to develop networking services in Latin America;
Implement the CLARA Business plan through a transition phase;
Monitor the Transition phase in all activities, identifying the bottlenecks and taking the steps to resolve them.
WP1 Team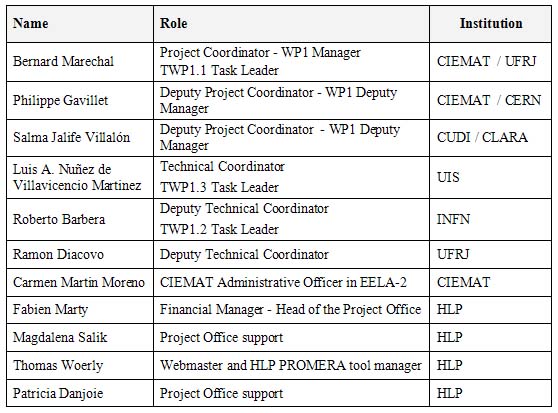 Edited by Philippe Gavillet on 27/07/2012